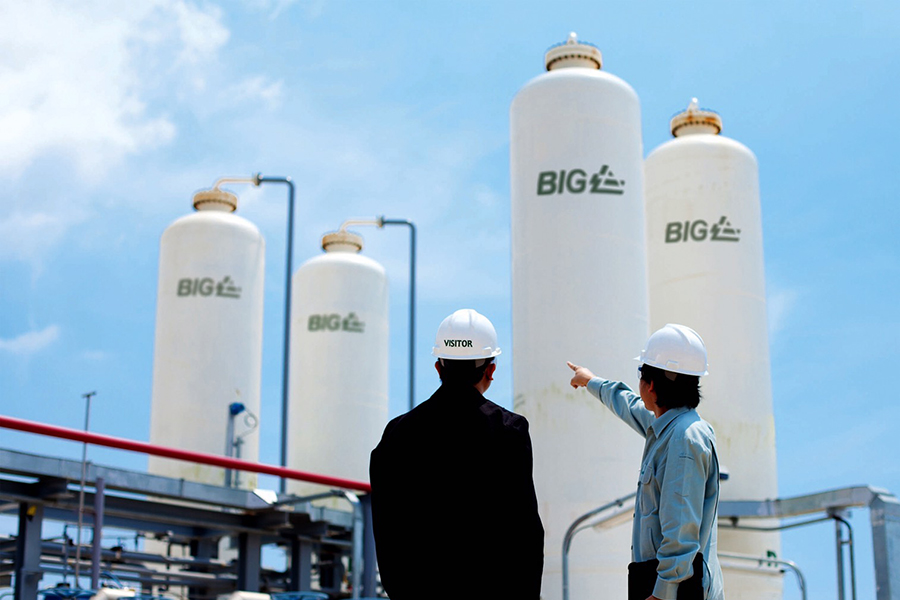 BIG continues with the plan to develop the second hydrogen plant in Map Ta Phut, Rayong, allocating more than 500-million-baht budget and newly innovation 
to produce as much as 12,000 tons of hydrogen per annum. The move will emphasize its role as Thailand's biggest hydrogen gas producer, which will produce more hydrogen to further support growing industrial, particularly in petrochemical and refinery sectors needs in the EEC. The project is in line with the Thailand government's strategy to promote using hydrogen as an alternative energy, instead of using with fossil fuel vehicles.
 Piyabut Charuphen, Managing Director of Bangkok Industrial Gas Co., Ltd. (BIG), Thailand's Innovative Industrial Gas Solutions, has announced the start-up of its second hydrogen plant (located in Nong Fab) with the ground-breaking ceremony being held in Map Ta Phut industrial estate in Rayong, where the development budget of more than 500 million baht is due to be spent. The hydrogen plant is constructed with the advance technology from the United States (US), which can product at the full capacity of 12,000 tons of hydrogen per annum that would lend support to the industry expansion, particularly in petrochemical and refinery sector in EEC area. The commercial operation of the hydrogen plant is due to start in 2019 and it's expected to be used up in the production process of propylene oxide, a raw material that PTT Global Chemical Public Company, a petrochemical flagship of PTT group, uses in producing its polyol products.
The Hydrogen, purified from high production standard, produced is supplied not only to petrochemical and refinery sectors, but also to be used as fuel in hydrogen-fuelled vehicles, which has passed through research and development (R&D) of major car assemblers in Europe, US and Japan. The hydrogen power has seen as the fuel of the future that will not cause any pollution and environment problem.
The plant construction is scheduled to complete in Q4/2019, which will emphasize the role of BIG as Thailand's biggest hydrogen gas producer with comprehensive gas solutions. BIG has brought advance technology to deliver hydrogen through a pipe network that goes directly to petrochemical and refinery clients, which have rising demand on hydrogen that will help them produce eco-friendly products with high quality products and lower costs.
The hydrogen production business has been growing rapidly in Thailand with demand rising 5-10% annually due to increasing consumption in petrochemical sector and auto sector. Demand on the industrial gas is also expected to rise rapidly in energy sector as eco-friendly fuel that can be developed as Hydrogen Energy Storage, which has been developing across the world.